11 Feb 2022
Artist Square Bridge: a work of art in West Kowloon
Dealing creatively with on-site challenges

The site presented several constraints, including traffic and pedestrian management and proximity to existing utilities and transport infrastructure such as the Airport Express Line tunnel. The new footbridge straddles the busy Austin Road West flyover, so construction had to minimise disruption and nuisance to both the travelling public and the many residents living nearby.

To achieve this, Gammon assembled modular steel sections south of Austin Road West and push-launched the completed sections over Austin Road West to connect them directly into the second floor of Elements. A design for manufacturing and assembly (DfMA) approach was also adopted to simplify the fabrication and erection process and deliver the scheme safely and efficiently. This meant fabricating and pre-assembling the entire footbridge at our offsite workshop.

The completed bridge was designed so that it could be easily divided into several prefabricated segments with a maximum weight of 80 tonnes, which were then transported to the site and erected. Prior to the bridge segments being delivered, however, it was first necessary to build a temporary structure and launching system. World-renowned specialists Freyssinet aided Gammon on both the launching system design and site operation.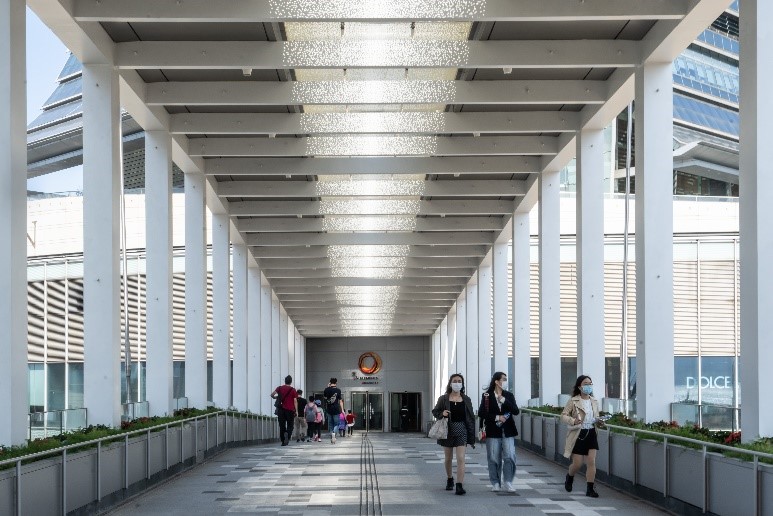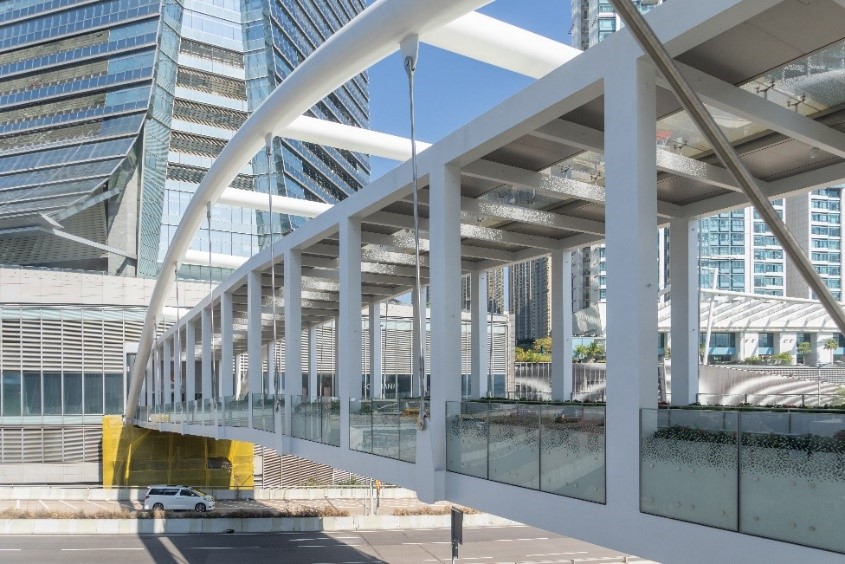 Mastering complex logistics

To reduce on-site assembly and welding works, it was important to use as few prefabricated steel segments as possible. The site's proximity to Victoria Harbour allowed us to deliver bridge segments by sea from a workshop in Mainland China, which allowed for larger segments to be moved than would be possible by land.

A 500-tonne mobile crane was deployed to lift the segments into place. Using the second largest crane available in Hong Kong meant that we could lift larger segments, reducing the total number of lifts and further shortening on-site assembly and welding time.

Components were loaded onto the launching system and welded together to form a longer segment. The welded segments were then launched forward at speeds of around 3m/hour. Once launching was completed and the bridge reached its final position, it was lowered, with the load transferred from the temporary support system to the permanent structure.

Launching was performed at night with temporary traffic diversions for Austin Road West to ensure zero harm and minimal disturbance to the public, who can now enjoy easy access to M+ via the new Artist Square Bridge for many years to come.