Digital Twin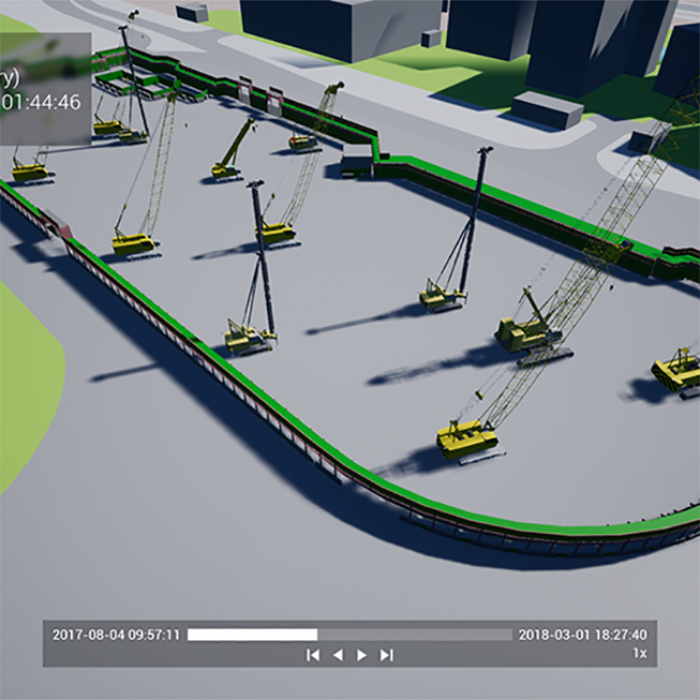 One of the latest advanced technologies available to improve the way the construction industry operates is that of 'digital twin' – the building of digital duplicates of physical assets through real-time data feeds and / or 3D modelling techniques.

A digital twin links real-world monitoring to a 3D representation for real-time simulations of a construction site, where entities in the digital twin change in tune with their physical counterparts.

We are trialling this technology on two of our foundations sites, where it is producing a visual representation of real-time and historical plant locations and progress to provide the project teams with a platform for improved planning and greater understanding of construction activities.

This technology is not just for the benefit of the contractor, however. For our clients, we will be able to deliver a complete asset of information in the form of a digital model at project completion, containing all the necessary information to allow the facility to be successful managed throughout its operational life. And as the asset model is developed throughout the duration of the project, we can also grant early access to our clients' teams so the facility can be better understood upon handover.

We are continuing to enhance and improve our digital twin capability, such as adding support for more data types and including more sites and functionalities. In essence, we aim to eventually deliver each of our projects twice: once in the digital virtual environment and once in the real world.